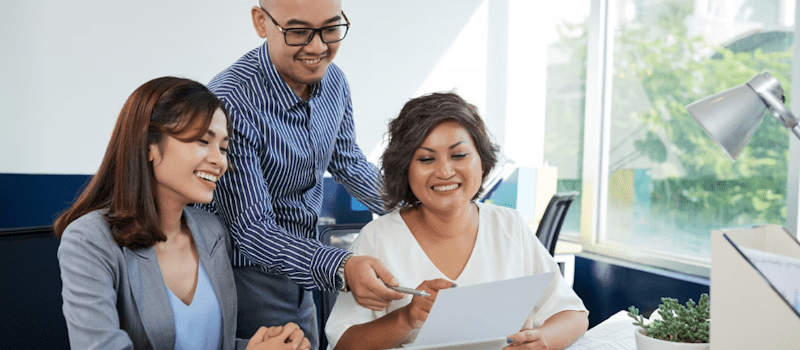 It may not immediately occur to business owners, managers, and CEOs that a virtual assistant staffing agency may just be what the doctor ordered to fill essential positions that help keep the business or organization going. Hiring a virtual assistant in the Philippines is an incredible opportunity for your business to use a versatile and professional talent pool with an excellent track record globally.
Filipino VAs are Stellar Global Remote Workers
Filipino virtual assistants form the backbone of countless offshore businesses and organizations. Today, more than 1.5 million remote workers are in the Philippines, forming a diverse labor force that serves every imaginable market and industry abroad. Filipino virtual assistants can easily handle complex business processes and ease into your business routines like they've been there for years.
Expedite Recruitment and Placement
Working with virtual assistant companies in the Philippines ensures that your business's recruitment and placement process is expedited and that you get only the best and most qualified talent that will solve your problems in the long term.
We're a Virtual Staffing Agency Who Knows the VA Industry Well
Virtual Assistant Philippines is a new and innovative virtual assistant staffing agency backed by a solid, sophisticated Filipino VAs and staff team. Our lovely team is always on the go, providing our clients diverse skill sets that drive growth and profitability. Our team is local, but our mindset is always global. We understand the challenges businesses face if they are understaffed, and our natural empathic nature allows us to connect the most suitable candidates with ideal employers, too.
We're Skilled Recruiters
When an organization needs outside help finding and vetting potential employees to fill open positions, its best choice is to turn to a virtual assistant staffing agency. Working with a virtual assistant staffing agency allows you to take advantage of their skilled recruiters, who will perform most of the recruitment-related chores on your behalf.
Virtual assistant companies in the Philippines may investigate a business' vacant positions, find suitable candidates, contact references, vetting candidate skills and talents, and finally, offer you a shortlist of individuals to meet with clients for more in-depth interviews.
You can also rely on the advice and assistance of virtual assistant companies in the Philippines as you make your final hire. A competent virtual assistant staffing agency can speed up and simplify hiring, allowing you to start working with new employees sooner.
The candidate will begin working for your company once a decision has been made, an offer has been presented, and the candidate has been accepted.
We Help Simplify a Complex Hiring Process
Many business aspects should be considered when deciding whether to engage in professional recruiting services, including personal taste, timeliness, financial resources, staffing requirements, and in-house expertise. Hiring a virtual assistant in the Philippines also requires some prior planning.
Many businesses decide that a virtual assistant staffing agency is the best strategic and financial option after considering the benefits and drawbacks of using larger recruiting firms and developing an in-house recruiting team. This could be due to a lack of internal resources, a preference for a more hands-off approach, or a belief that the benefits of working with an outside firm exceed the costs.
Recruiters at a reputable virtual assistant staffing agency will have worked with companies of various sizes and fields. Thanks to the vast exposure of virtual assistant companies in the Philippines to diverse clients and prospects, they have the knowledge and experience to guide you toward your strategic workforce goals.
Virtual assistant staffing agencies have a massive and constantly expanding candidate pool, which is one of their main advantages. Top-tier professionals are drawn to a staffing agency's stellar reputation, and its recruiters work tirelessly to widen their web of contacts.
Time spent on hiring a virtual assistant in the Philippines, like advertising jobs, networking to find qualified applicants, and reviewing applications is the time taken away from other, more pressing obligations. Staffing agencies have the advantage of doing the bulk of the preliminary recruiting work, freeing up in-house staff to concentrate on more profitable projects.
We Help Maximize Productivity and Profitability by Reducing the Costs of Employee Turnover
Many factors, including personal choice, time constraints, financial considerations, recruitment demands, and internal resources, must be considered when deciding whether to engage with virtual assistant companies in the Philippines.
Want to expedite hiring a virtual assistant in the Philippines and save money? An experienced staffing agency can shorten the time to hire new employees, allowing you to put new employees to work sooner. In the long run, having an in-house team may be more expensive than hiring an outside firm to provide the necessary human resources. When compared to the cost of employing a full-time recruiter in-house, the fees charged by a staffing agency are more cost-effective.
The number of qualified applicants and the quality of those applicants both increase when working with Virtual Assistant Philippines.
Top-tier applicants when hiring a virtual assistant in the Philippines aren't always going to be responsive to things like job advertising and social media posts because they aren't active job seekers. By partnering with a recruiter, you can gain access to these individuals whose contributions may well outweigh your investment in them.
The cost of replacing a worker can be astronomical. It takes time and money to find, recruit, hire, and train a new employee, and if that person doesn't work out, you must start the process over again with someone else.
Retention after  rates go up, and turnover costs go down when a virtual staffing agency with a proven track record helps you hire the right people for the appropriate positions the first time around.
Transform Your Business/Organization with Committed and Highly Skilled Virtual Assistants from the Philippines
Virtual Assistant Philippines can help you in hiring a virtual assistant in the Philippines. Find staff for various positions in record time. Our vetting and placement processes ensure you only get the most experienced and hardworking candidates ready to work.
Contact Us Today